Before Use
Before each use, check to make sure there are no damages (ex. punctures, splitting…etc.)  to your YUYU rubber bottle. 
To check for any leaks, fill cold or lukewarm water into the YUYU rubber bottle. If you notice that your YUYU rubber bottle is leaking, stop use immediately.
To replace your YUYU rubber bottle, head to the Extras page.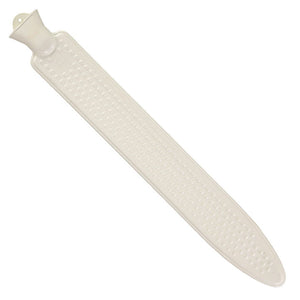 YUYU Bottle Care
Use a damp cloth and water and wipe gently to keep your bottle clean and dirt free. Note: Please avoid using dishwasher soap or soap as it may damage the natural rubber.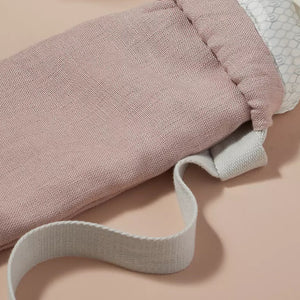 Cover Care
All YUYU covers (except the Cashmere) are all machine washable at 30°C. 
Wash with like colours 
Do not tumble dry
Do not iron
Do not bleach
If you are ever unsure, check the inside lining of the cover for the care label washing instructions. 
Storing your YUYU Bottle
When not in use, drain the water completely and store with stopper removed, upside down in a cool, dry, and dark place (away from direct sunlight). Please make sure to not place anything on top of the bottle during storage.
Cashmere Cover Care
Hand wash your cashmere cover in lukewarm water using mild, hand-wash detergent or hair shampoo; at a temperature of 30°C or less. Rinse in lukewarm water several times.
Reshape whilst damp; use the bottle length as a guide. Lay to dry on a flat surface at room temperature. To remove excess water, squeeze gently, do not twist or wring. Press using a cool iron with a damp cloth.
Do not bleach. Alternatively, dry clean.
Note: The cashmere cover contains non-textile parts of animal origin.
Cashmere Pilling
Just like all-natural knitted fibres, especially in the classic knit variety, you should expect a small amount of pilling, especially during the first few uses.
'Pilling' is the result of loose fibres on the surface rubbing together during wear that cause small bobbles to appear.
We advise using a cashmere comb to keep your YUYU in the best possible condition. The cashmere comb will take off the loose hairs that cause the bobbles and keep your cover looking fresh and new.
Simply lay your YUYU cover on a flat surface and hold an area taut with one hand whilst combing with the other.
Cashmere combs are available to purchase here.